Laura Franz and Paul Baffico Represent Two Organizations Serving Area Veterans and their Loved Ones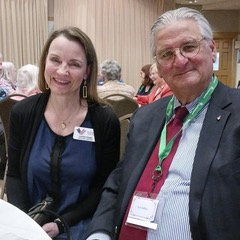 Pictured at the recent Daughters of American Revolution Annual meeting, Laura Franz, Executive Director, Veterans Path to Hope, and Paul Baffico, Founder and President, of Lake County Veterans, and Family Services Foundation, enjoy the DAR's Award Dinner held May 3 in Vernon Hills.
The event was sponsored by the Ansel Brainerd Cook Chapter of the DAR.
Baffico was honored with the Excellence in Community Service Award, as well as receiving a Quilt of Valor, a symbol of the nation's gratitude for his military service.
Veterans Path to Hope is based in Crystal Lake and serves Veterans in need of housing, employment, food, counseling and other services. It serves McHenry, Lake and Winnebago counties and surrounding areas.
Lake County Veterans and Family Services Foundation connects Veterans with each other and with the resources and benefits they earned and deserve.
Both organizations work together to advocate on behalf of Veterans and their loved ones.
"We're pleased to be working with Veterans Path to Hope when and where we can," said Baffico. "Together we can touch a lot of lives and provide Veterans with support from those who have been there."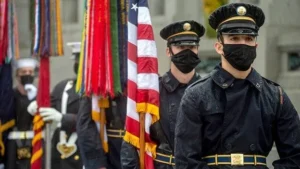 The men sitting in the conference room at the Department of Veterans Affairs (VA) clinic in Mare Island, Calif., are all Vietnam veterans in their
Read More »