Paul Baffico, Founder and President, U.S. Army, 1LT 1969-1971, served in Vietnam with the 101st Airborne in 1970-1971 as a combat communications platoon leader. He has been a monthly docent for the National Park Service at the Vietnam Veterans Memorial in Washington, DC since 2006; a certified Veteran Peer Support Specialist, the 2012 Chicago Red Cross Military Hero of the Year, past Chairman of the Governing Council of the Lake-McHenry Veterans and Family Services Federal Grant and founder of the Lake County Veterans and Family Services Foundation. His book Last Mission for a Reluctant Patriot was published in 2014. Mr. Baffico spent 34 years at Sears Roebuck where he was the President of the Automotive Group and CEO of Western Auto. He holds a B.A. from the University of San Francisco.
Judge Christopher R. Stride, Vice President, is Circuit Court Judge of the 19th Judicial Circuit of the State of Illinois appointed in 2016 by a unanimous vote of the Illinois Supreme Court. He is the Presiding Judge of Problem Solving Courts (Mental Health Court, Drug Court, Veteran's Treatment and Assistance Court). Judge Stride holds a Bachelor of Arts in Political Science from Valparaiso University and a Juris Doctor of Law from Valparaiso University School of Law. He is active member of the Board of Directors of the Lake County Bar Association, the Board of Directors of Lake Forest Hospital, a member of the Community Youth Network, Grayslake, Illinois, and a Commissioner of the Lake Bluff Fire and Police Commission, Village of Lake Bluff, Illinois. His additional extra-judicial activities include the Judicial Education Faculty for the statewide Judicial Education Conference, member of the Administrative Office of the Illinois Courts Committee on Judicial Excellence, and winner of the Vanguard of the Year Award from the Lake County Coalition to Reduce Recidivism.
Ron Bruner, Treasurer, LCVFSF Volunteer Veteran Peer Specialist, United States Army, Illinois National Guard, is a retired bank executive and Chicago native. He is a graduate of Lane Tech, Roosevelt University, and holds an MBA from the Lake Forest Graduate School of Management. After serving in the Illinois National Guard for six years where he saw duty during the Sixties, Ron went into the banking and trust business where he enjoyed forty years of success. Since his retirement, Ron has always made it a habit to spend the majority of his free time volunteering. At Lake Forest Hospital, he was recognized as the volunteer of the year. He also trains his champion dog and finds ways to make other contributions to his community. LCVFSF is fortunate to have Ron turn his attention to the business administration needs of the Foundation. Ron has completed DBSA Peer Training and has been certified by the state of Illinois as a Veteran Peer Specialist.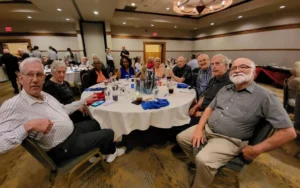 Mundelein After School Coalition Veterans Dinner A Smash! Sponsored by the Mundelein Police Department and the Mundelein After School Coalition (MASC), the annual appreciation dinner
Read More »